Creative Week 2013 →
Registration is open! Plan your schedule today!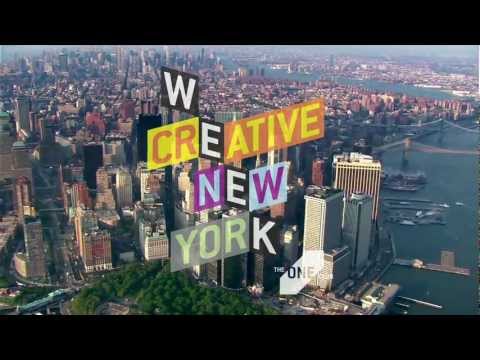 The Passport Project- Black Enterprise →
Another great read this week.  #Travel #Explore
TomCookery →
One of the many articles we read recently. Support local businesses and young entrepreneurs in NYC #foodie #art
10 tags
Update, Update, Update!
By TAICHI KOZAKI  If you receive update notifications for your mobile apps, that means the one you have right now is old. Technologies advance every day, and we need to keep ourselves updated.  The same thing can be said about our skills.  The main difference?  We don't really get push notifications for them.  When I started my college career at SCAD two years ago, no one was talking about...
13 tags
Making It: The Art of Excelleration
By BENNETT D. BENNETT Dear ADspirants, excelleration (n.) – The act of progressive achievement; the constant movement from great success to greater successes (taken from "excel" and "acceleration").  This is a real word. At least when it comes to my brand, it is. At the end of Creative Week, I was at The One Show. The One Show.You know, the award show where all the awards are pencils,...
11 tags
Ideas vs. People: The Chicken vs. The Egg
By ANGELA MARTIN As Creative Week 2012 rolled along, the creative community became hooked to the panels, the shows, and the parties. Whatever piqued each person's interest did not fail to deliver. While Creative Week presented insight after insight after insight, two main themes emerged and wove their way through the entire week: 1). Big Ideas 2). Great People In order to be successful in this...
10 tags
Stop Doing Advertising
By NATHAN ARCHAMBAULT   Stop it. Just stop.   If you're reading this, you're probably paid to be in advertising. You probably come up with ideas and execute them for a living.   And you need to stop it.   I don't mean quit your job. I mean change your state of mind. Stop living and breathing advertising. Stop the daily visits to AdCritic and AdFreak and AdAge and AgencySpy. Stop hanging out with...
3 tags
7 Top Recommendations For Creative Students
By ANGELA MARTIN Undergraduate and portfolio school students attended Creative Week 2012 in noticeable numbers. At an event like Creative Week (or Advertising Week, which is in a few months, hint, hint.), advice is shared and contacts are made – both things being extremely valuable to students trying to get into the industry.   As not only the previous Creative Manager of a well-known ad...
3 tags
I Need An Inspiration
By TAICHI KOZAKI Sometimes, simply talking to another person can be the most powerful inspiration source. I believe many of us experienced that during Creative Week.  As a design student, seeking inspiration is a part of my daily life.  I use Pinterst to organize things I find online, and I use my mobile phone camera to capture things offline. These sorts of inspirations often help me develop...
3 tags
Making It: Thick Skin Required
By BENNETT D. BENNETT  Dear ADspirants, Creative Week is real. Real, like, the ish in rap songs. The events that I've attended, the people that I've met, the things that I can see myself doing…it's all great. That being said, a very large, "Thank you!" goes out to Tiffany Edwards and Chavonne Hodges-Brown of The One Club. I helped them out on Monday's Portfolio Reviews, and stopped by to...
3 tags
What Is Inspiration?
By BIANNETTE CAMILO  What is inspiration?  To me inspiration is whatever makes you do something. Whatever motivates you. Whatever tells you to get up off your butt and make some moves.  And whatever that is is everything to me.  Whether it's me taking the subway or simply taking a walk around the city, I'm always inspired. You can find art in almost anything. In everything,...
3 tags
Where Do We Go From Here?
By SASHA FLYNN Resetting into a "normal" week following all the fun I had last week at Creative Week, I must say: Aside from the exhaustion, I feel great!  In less than two months, I will have completed my first year in an advertising creative department. One day – many years from now – I will look back and be proud of the energy and fortitude I showed toward my career at this time.  ...
3 tags
The Big Idea Isn't What It Used To Be
By NATHAN ARCHAMBAULT I went to a Creative Week session last Monday at City Winery called THE IDEA MATTERS….STILL. It opened with the panel (a bunch of Deutsch dudes: Jerome Austria, Bud Caddell, Morgan Carroll, Steve Nesle and Liz Gumbinner) talking about what they thought of their topic.  They asked themselves if it was bullshit.  And they concluded – spoiler alert! – yes and no.  Yes,...
3 tags
What Week Is This?
By NATHAN ARCHAMBAULT I think it's Creative Week.  Or maybe it's Advertising Week.  It's definitely not Internet Week – that's coming up next week.  SXSW Interactive happened two months ago, so it can't be that – and I'm pretty sure Cannes is still a month away. Is there an award show this week? Maybe someone will win a Clio or a Webby or a Pencil or an Addy or an Innie or an Outtie.   What...
3 tags
Creativity & Positivity
By MATT MOONEY I will always remember being asked to go back to my old school a few years ago to give a career talk on the music industry in Ireland (where I started out). Mostly, I remember talking about the importance of fresh thinking and always pushing yourself to come up with innovative ideas.  One of the kids put up his hand and asked me, "How do you come up with great ideas?"  At...
3 tags
Marching Orders: Your Route To A Great Portfolio
By SHATON WINSTON What is creativity?  There are certainly millions of answers to that one. If not billions. Everyone has their own meter regarding what creative is – and what isn't. There are so many answers, we could start the longest game of telephone EVER.  What is a good portfolio?  We may have just as many unique answers as the original question. For many creatives, the beauty of...
4 tags
An Idea: Ideas Matter
By SASHA FLYNN  "Ideas are the holy grail." Jimmy Smith, of Amusement Park Entertainment, doesn't argue, he doesn't persuade, nor try to be overly convincing – but he does state emphatically that ideas are the meat and potatoes that carry good creative work.  Dave Clemens, ECD of Taxi, seems to take a different stance:  "Ideas are useless…" he states during the panel, The...
3 tags
Attention To Detail
By MATT MOONEY  "Attention to Detail" is something that I've been hearing my entire life!  Everyone always says it, but how many of us actually practice it?! I try to live my life by a few mottos, and while "Attention to Detail" might not quite be a motto, it's definitely a big part of what I try to do with the work I put out there.  I had a college professor who taught me a very valuable...
4 tags
A Story of Art, Advertising and Bears
By ANGELA MARTIN   38 hours.   That's the length of the longest "day" Chad Hasegawa spent working non-stop in an advertising agency – and he still felt like he had to sneak out of the office to go home.   While Hasegawa was employed at one of the top ad agencies in San Francisco, he discovered that he could operate for extended hours under incredible stress and continually produce great...
1 tag
4 tags
Creative Week C Train Playlists
Getting to and from the Creative Week thought leadership sessions this week is easy. Take the C Train to and from the venues (Spring Street for City Winery and High Street for Galapagos Art Space). It takes about 20-25 from the moment the train doors close to when you walk in to the venue.  So we wanted to give you a little music for the ride. Below, you'll find all kinds of Spotify...
2 tags
Good flying music and I do enjoy this album cover....
5 tags
IT WAS SIMPLE: I WANTED TO DO EVERYTHING
By BIANNETTE CAMILO  From being a mannequin stylist to working with stage directors to then becoming a radio personality to now being an advertising and public relations student, I can only say that there's still so much left for me to do!  At 17 years old I knew what I wanted to do with my life. It was simple:  I wanted to do everything.  Being part of a college preparatory program in...
7 tags
5 with @faris: On Cracking The Ad Code + His...
BY DOUG ZANGER Faris Yakob. Highly amiable bloke. Super-passionate about creativity. Hell of a lot of fun to talk to. So we decided to create a little podcast with our friend: 5 with @faris. We'll mine the vast swath of creative thought. We'll talk possibility, the past, present — the future. It's the "why" of creativity. All in 5 minutes. Or so. This...
5 tags
BUILDING YOUR PORTFOLIO AT #CWK12
By SHATON WINSTON  You're creative! In fact, you're more creative than at least half the people you know. You think you can write a clever, witty, or heartfelt TV spot. C'mon – it's a piece of cake!  You even think you have the chops to develop and execute an entire 360 degree campaign. Naturally, you're interested in pursuing a career in advertising.   But how do you break in?  You want...
5 tags
When The Young Guns Take The Reigns: A Chat With...
BY DOUG ZANGER An interesting though: what does happen when an agency relinquishes control and lets the young/new people take over? We're looking forward to what kps+ has to say about it — as they have plenty of experience here. We caught up with Ed Brojerdi, President + Co-Chief Creative Officer, kbs+ for a quick Q&A on the topic, and what to expect at their session on Monday,...
5 tags
How A Great Creative Week Ad From Deutsch Happened...
BY DOUG ZANGER We're all incredibly excited about Creative Week starting next week. And the Creative Week Digital Guide has kinds of amazing videos from The One Club, special articles and info to help you navigate a jam-packed week. There are also ads from our great partners — one of whom is Deutsch. Deutsch NY creatives were Lee Tone (Copywriter) and Rajiv Lahens (Art Director) got...
4 tags